---

Welcome to SCMS Online...
the largest voice of organized medicine
in Springfield and Sangamon County


---



ISMS/SCMS Welcomes These New Members



Posted on: 1/31/2014

Sangamon County Medical Society

Neha N. Amin, MD
Deepa Aparanji, MD
Diane H. Aw, MD
Lisa A. Benning, MD
Vivianne C. Beyer, MD
Ramanath Bhandari, MD
Trupesh A. Chanpura, MD
Andrew C. Dickler, MD
Kristan L. Ferguson, MD
J. Randall Hine, MD
Nora T. Kizer, MD
Rajan Kochar, MD
Gaurang B. Patel, MD
Ra'Kerry K. Rahman, MD
Avinash K. Viswanathan, MD
Elizabeth A. Warner, MD


---



Calendar of Events and Meetings



Check the SCMS Calendar of Events & Meetings for the latest programs and activities... like "Jersey Boys" at the Sangamon Auditorium on March 8th, the "Black and White Gala" event on March 22nd, and "Heroin and Opiates in Our Community" on March 27th. Click here for complete information on all of these events!


---

Medical Society and County Bar Association Hold
Joint Meeting Sponsored by SIU School of Medicine

Sangamon County Medical Society and Sangamon County Bar Association jointly sponsored by SIU School of Medicine was held on November 5th at the Sangamo Club with the generous support of our exhibitors: Alterna-Care (Gold Level Exhibitor), and Kerber, Eck & Braeckel (Bronze Level Exhibitor).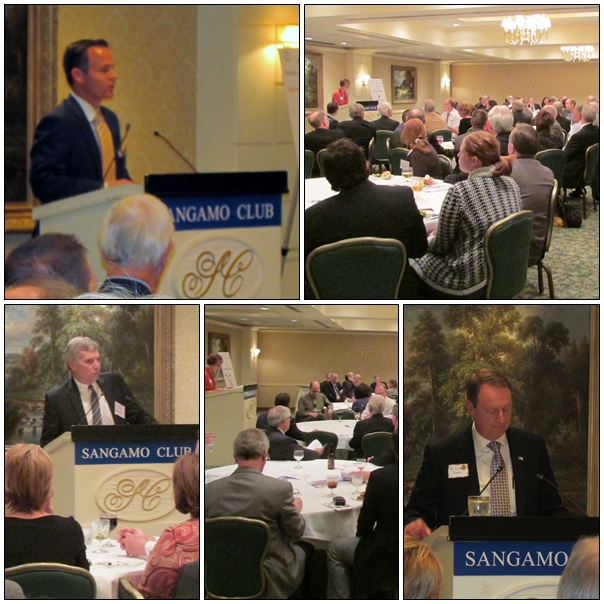 "Affordable Care Act Sangamon County Medical Society and Sangamon County Bar Association Joint Meeting" was blessed to have the great support of our presenters, ISMS President Eldon Trame, MD and Attorney Robert Wagner.

Thank you to all who worked to make this program a success and to those who took the time out of their very busy schedules to join us in learning about the Affordable Care Act.


---
SCMS 2nd Annual Health & Wellness Conference Held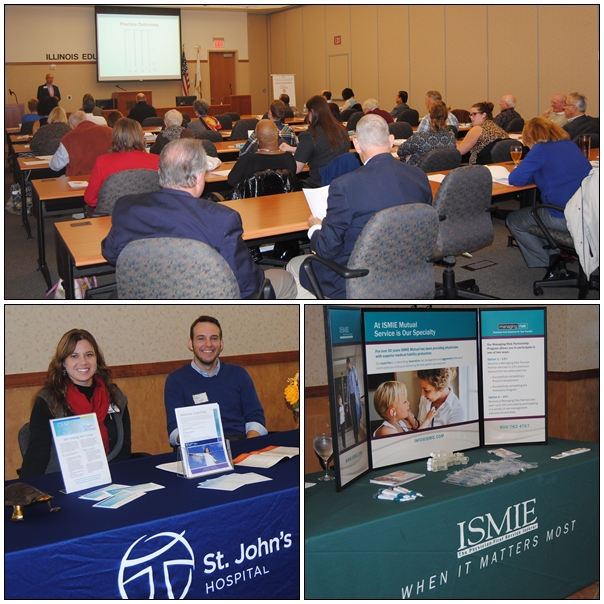 Sangamon County Medical Society's 2nd Annual Health and Wellness Conference jointly sponsored by SIU School of Medicine was held on October 17th at the Illinois Education Association with the generous support of our exhibitors: ISMIE and Physicians' Benefits Trust (Gold Level Exhibitor), St. John's Hospital (Silver Level Exhibitor), and Carrollton Bank and Gateway Foundation (Bronze Level Exhibitor)

"Practice What You Preach" was blessed to have the great support of our presenters, Brian Moore, MD, Craig Backs, MD, Claude Fortin, MD, Molly Suhadolnik, and Sandra Vicari, PhD.

SCMS would also like to thank Springfield Health Check for helping arrange the following groups to attend the program: Alterna-Care, Alzheimer's Association, Central Illinois Community Blood Center, SIU School of Medicine Students and organ donation through the Illinois Secretary of State in addition to genHKids Coalition, Susan G. Komen for the Cure, American Lung Association, and Crystal's Rabbits.

Door Prizes were provided by the following businesses: Ahh Yoga, Bicycle Doctor, BJ Grand Salong and Spa, County Market, Food Fantasies, Gold's Gym, Fit Club, Skateland South and Springfield Park District.

Thank you to all who worked to make this program a success and to those who took the time out of their very busy schedules to join us in learning how to take care of ourselves and "practicing what we preach."


---

SCMS Applauds School District 186 Administration For
Move To Put EpiPen Auto-Injectors in District's Schools

The Sangamon County Medical Society wants to applaud the Springfield Public Schools District 186 administration, school board and nursing staff for moving to put EpiPen auto-injectors in all of the district's schools under the provisions of the Emergency Epinephrine Act (H.B. 3294).

The Sangamon County Medical Society wants to applaud the Springfield Public Schools District 186 administration, school board and nursing staff for moving to put EpiPen auto-injectors in all of the district's schools under the provisions of the Emergency Epinephrine Act (H.B. 3294). Dr. Dareen Siri, President-Elect of the Sangamon County Medical Society and a board certified Allergist/Immunologist, worked with members of Illinois Attorney General Lisa Madigan's office and with Valerie Rogers R.N., the health service coordinator for District 186 to inform the school board about the benefits of implementing H.B. 3294.

Thanks to a program offered by Mylan Pharmaceuticals, the district will receive two EpiPens per school at no cost, which will cover the 2013-2014 school year. Access to these lifesaving medications will help to ensure the safety of school-aged children that suffer from severe allergies. Dr. Siri states that asthma and allergies occur in up to 40% of children. The presence of an epinephrine auto-injector in schools, which trained school personnel can use in the event of anaphylaxis, is an additional level of safety for those children that suffer from potential fatal allergies to items such as foods, stinging insects, latex, etc.

The Sangamon County Medical Society also supports the School Access to Emergency Epinephrine Act (S. 1503). This bill was passed by the US House of Representatives July 30th, 2013, and has been introduced under bipartisan cooperation to the US Senate by Senators Dick Durbin (D-IL) and Mark Kirk (R-IL). The school Access to Emergency Epinephrine Act was referred to the Committee on Health, Education, Labor and Pensions. This bill will give increased preference in awarding certain asthma related grants to states that have passed laws allowing trained school personnel to administer epinephrine in cases of anaphylaxis. Dr. Siri will be attending the 2013 USAnaphylaxis Summit in Washington D.C. early October to work with other physicians to continue grassroots advocacy efforts. "Illinois has been a leader in encouraging schools across the country to maintain access to critical life-saving medication for children with food and other allergies," said U.S. Senator Dick Durbin (D-IL). "The Springfield Public Schools have taken an important step to protect students and possibly prevent life threatening allergic reactions from becoming fatal. I applaud this step and will continue working with Senator Kirk to pass legislation that will incentivize other states and school districts to do the same."

Interim Superintendent Robert A. Leming stated, "I am pleased with the continued progress that has been established through the collaborative efforts of the district and Board of Education. As we move forward with the EpiPen Policy, I am certain it will further ensure the safety of Springfield Public School children in the event of an emergency."

"I commend District 186 for its commitment to the health and safety of the students of our community," said Senator Sam McCann (R-Carlinville.) "The General Assembly aimed to make access to these life-saving drugs a priority, and I'm glad District 186 is taking this important step."


---

Compliance for Revised HIPAA Rules;
AMA Tools Simplify Process

A new toolkit released by the AMA can help physicians navigate sweeping new revisions to the Health Insurance Portability and Accountability Act (HIPAA) privacy and security rules. Physicians had until September 23 to comply.

Among the key changes doctors were required to for the deadline were new agreements with business associates that handle patient information and privacy notices to share with patients and increased security measures for patient data.

Physicians can turn to the AMA's free toolkit for initial guidance in meeting the new requirements. The toolkit offers practical resources physicians can begin using in their practices:
The U.S. Department of Health and Human Services issued the 563-page HIPAA omnibus rule in January, revising and extending required safeguards for protected health information and expanding individual rights of patients. The updated law also tightens requirements on physicians when patient information is breached. As a result, physician practices could face more legal scrutiny and higher fines in the event of an information breach.


---
2013 SCMS Mini Internship Program


Mini Internship Participating Physicians and Interns

Front Row: L to R - Dr. Steven O'Marro, Dr. Thomas Ala, Chris Smith, Kathy Kincaid, LuAnn Kelker, William Grove, Sister Kathleen Kenny, Dr. Amber Barnhart, and Melanie Loulousis
Back Row: L to R - Steward Sandstrom, Brooks Wilson, Dr. Satchivi, Dr. Murphy, Nathan Mihelich, Dr. Stevens, Dr. Freitag, Dr. Goldstein, Senator Sam McCann, John Stremsterfer, Alderman Joe McMenamin, Dr. Oreshkov, and Dr. Graham


Top left photo: LuAnn Kelker and Dr. Per Freitag; top right, Melanie Loulousis. Bottom picture: LuAnn Kelker and Dr. Per Freitag

The 2013 Sangamon County Medical Society Mini Internship Program was hosted by St. John's Hospital in the WCC Tea Rose Room.

A special thank you to our participating physicians:

Dr. Leslie Satchivi at Springfield Clinic, Dr. Thomas Ala at SIU HealthCare, Dr. Amber Barnhart at SIU HealthCare, Dr. Per Freitag at SIU HealthCare, Dr. Jeffrey Goldstein at Prairie Cardiovascular Consultants, Dr. Donald Graham at Springfield Clinic, Dr. Todd Knox at Associated Anesthesiologists, Dr. Michael Murphy at Central Counties Health Center, Dr. Michael Neumeister at SIU HealthCare, Dr. Steven O'Marro at Springfield Clinic, Dr. Vesselin Oreshkov at Sangamon Associated Anesthesiologists, and Dr. Benjamin Stevens from Springfield Clinic.

We had a wonderful group of Interns this year:

LuAnn Kelker - Private Banking Officer at US Bank, Brooks Wilson - Minister at Southside Christian Church, William Grove from the IL National Guard, Kathy Kincaid - Treasury Management Officer/Vice President at Carrollton Bank, Sister Kathleen Kenny from Sacred Heart Convent, Senator Sam McCann, Springfield Alderman Joe McMenamin, Nathan Mihelich - Springfield's City Director of Communications, Chris Smith - Clinical Marketing Director at SIU HealthCare, Steward Sandstrom - President and CEO at The Greater Springfield Chamber of Commerce, Melanie Loulousis - High School Biology Teacher at New Berlin High School, and John Stremsterfer, President and CEO for the Community Foundation for the Land of Lincoln.


---



5 HIPAA Violations You Need to Know



Doctors do not plan ahead to violate HIPAA, but in this digital age they may be unknowingly violating these regulations. Here, we outline five common ways you may be breaking HIPAA privacy and security rules accidently.

1.) Texting PHI to members of your care team. It's a simple scenario: you've just left the office, and your nurse texts you that Mrs. Smith is having a reaction to the medication you prescribed. She has given you her information to return the call. You may know this is illegal, but feel justified because it is a serious case. In reality, this information has just passed from your nurse's phone, through her phone carrier, to your phone carrier, and then to you — four potential areas where this unsecure message could be intercepted or breached.

2.) Taking a photo of a patient on your mobile phone. To some this will sound silly, to others, it is as common as verifying a rash with a colleague. Simple enough, but if these photos are viewed by eyes they are not intended for, you may be in violation.

3.) Receiving text messages from your answering service. Many physicians believe that if they receive a message from a third party, then they are not responsible for any violation of HIPAA. They may verify it is encrypted on their end, but if it pops onto your screen, it is certainly not secure on your end — and this is where your responsibility lies.

4.) Allowing your child to borrow your phone that contains PHI. Many folks allow their kids to play with their phones. If your phone has an app that can access PHI, then you may be guilty of a HIPAA breach if anyone views this information that is not you.

5.) Not reporting a lost or stolen device that contains PHI. Losing your smartphone or tablet is a total pain, but many do not realize that if you have patient information in that device, you could be held responsible for a HIPAA breach.


---

Springfield Physician Elected Vice-Speaker
Of the House of Delegates, Illinois State Medical Society

Howard B. Chodash, M.D., of Springfield was elected Vice-Speaker of the Illinois State Medical Society (ISMS) during its recent annual meeting.

Dr. Chodash practices gastroenterology with Physicians Group Associates in Springfield. He has duel board certification in internal medicine and gastroenterology and is on staff at St. John's Hospital and Memorial Medical Center.

As a longtime member of ISMS he has served on numerous councils and committees including the Council on Education and Health Workforce, the Council on Communications, and is a Delegate to the ISMS House of Delegates. He is also a member of the American Medical Association, numerous specialty societies, and is a fellow with the American College of Physicians and the American Gastroenterological Association. Locally he is a past president and trustee of the Sangamon County Medical Society. Dr. Chodash is also the president of the Jewish Federation of Springfield.

Dr. Chodash received his medical degree from the University of Illinois College of Medicine at Chicago. He completed his residency at the Mayo Graduate School of Medicine, Rochester, Minnesota and fellowship in gastroenterology at the Feinberg School of Medicine, Northwestern University.


---

SIU Med School Seniors and
Residency Programs Get Match News

Senior medical students in the graduating Class of 2013 at Southern Illinois University School of Medicine were given results from the National Resident Matching Program (NRMP) on Friday, March 15, at the same time other U.S. medical students learned their matches to postgraduate training programs. Sixty-eight SIU seniors have secured residency positions.

Nine SIU seniors (13%) selected family medicine residencies, eight (12%) chose internal medicine and eight (12%) selected pediatrics. Six students (9%) matched in radiology, five (7%) in preliminary surgery, four (6%) in emergency medicine, four (6%) in medicine-pediatrics, three each (4%) in general surgery, obstetrics/gynecology and orthopaedic surgery.

"I am pleased that so many of our students have chosen primary care specialties for their residency training," said Dr. J. Kevin Dorsey, Ph.D., dean and provost. "With so many of our graduates staying in the region, we can continue to strengthen the health-care services for our citizens."

Other match results for SIU seniors were two each (3%) in anesthesiology, otolaryngology and plastic surgery. Internal medicine/primary care, neurological surgery, neurology, ophthalmology, pathology, psychiatry, radiation oncology, urology and vascular surgery attracted one (1%) student each.

Thirty SIU medical students (44%) will train in the primary care specialties of family medicine, internal medicine and pediatrics. If the three student matches in obstetrics/gynecology are included, the total rises to 49 percent.

SIU and its affiliated hospitals attracted 16 (24%) SIU seniors for residency training. Another 12 seniors picked other Illinois programs and 26 seniors selected Midwest programs, making a total of 54 SIU medical students (79%) who will begin training in the Midwest.

The Class of 2013 at SIU School of Medicine will graduate Saturday, May 18. New physicians begin their residency training in July 2013.

Match results also were announced Friday for SIU's residency programs in Springfield, based at the School's two affiliated hospitals — Memorial Medical Center and St. John's Hospital. Seventy-two starting positions in Springfield were filled. The first-year residents will join 210 senior residents and fellows already in training at SIU programs in Springfield.

Thirty-five first-year positions were filled in primary care programs — general internal medicine (14), family medicine (10), general pediatrics (7) and obstetrics/gynecology (4). Twenty positions were filled in the seven surgical programs — emergency medicine (6), general surgery (4), orthopaedic surgery (3), otolaryngology (2), plastic surgery (2), urology (2) and vascular surgery (1). Seventeen total positions were filled in other specialties — preliminary medicine (4), psychiatry (4), radiology (3), dermatology (2), medicine-psychiatry combined (2) and neurology (2).

"SIU and its affiliated hospitals have positioned themselves to attract highly qualified residents as indicated by our strong match results again this year," said Dr. Karen Broquet, associate dean for graduate medical education. "SIU residents are integral members of the health-care teams that provide quality care to patients from central and southern Illinois. We are pleased to welcome such a talented and diverse group of residents starting in June who will help fulfill the mission of SIU and its affiliated hospitals."

SIU also has affiliated family medicine residency programs in Carbondale, Decatur and Quincy, each three years in length. Seventeen first-year positions have been filled for next year through the NRMP match and a similar program held last month for osteopathic physicians. These residents will join 35 senior family medicine residents and fellows at SIU's affiliated hospitals — Memorial Hospital in Carbondale, Decatur Memorial Hospital in Decatur and Blessing Hospital in Quincy.

Established in 1970, the mission of SIU School of Medicine is to assist the people of central and southern Illinois in meeting their health needs through education, patient care, research and community service. An international leader in medical education, the School is based in Carbondale and Springfield and is specifically oriented to educating new physicians prepared to practice in Illinois. Since opening, 2,472 physicians have graduated from its program. For information, call SIU's main number, 217-545-8000, or go online, www.siumed.edu.

NOTE: The National Resident Matching Program no longer provides what percentage of medical students received their first, second or third choice of programs.


---
Eleven Medical Professionals
Honored at Medical Innovators Program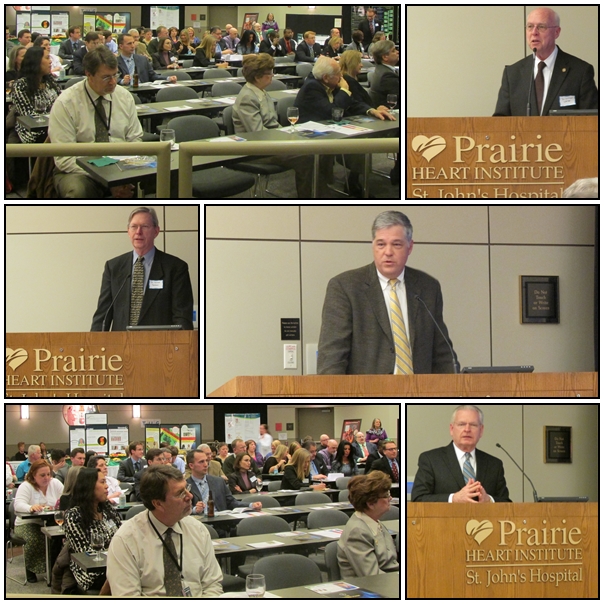 A selection of innovative medical professionals working in Sangamon County presented their achievements in medical treatments, research and community service at the 2013 Medical Innovators Program on Thursday, March 7, 2013, at the James T. Dove M.D. Conference Center at Prairie Heart Institute in Springfield. The Sangamon County Medical Society, Southern Illinois University School of Medicine and The Greater Springfield Chamber of Commerce hosted the event, sponsored by The Illinois State Medical Society.

Springfield Mayor J. Michael Houston presented the Mayor's Medical Innovation Award and issued a proclamation at the event. The 11 professionals recognized include physicians, surgeons and researchers working in Sangamon County on a variety of projects to improve the health care of the community. Their innovations include basic science research findings, leading-edge clinical trials, new patient care treatments, and community service projects. This year, the event also recognizes "Young Innovators," individuals aged 21-40.

The medical professionals recognized were:

• Jeffrey L. Bennett, M.D., SIU School of Medicine, for his development of neurostimulatory treatments for mental disorders
• Michael Brenner, M.D., SIU School of Medicine, for his hearing loss research
• Kathleen Campbell, Ph.D., SIU School of Medicine, for her research in prevention of noise-induced hearing loss
• Stephen Hazelrigg, M.D., SIU School of Medicine, for his advances in the surgical treatment of emphysema
• Judith Knox, M.D., Springfield Clinic, for her efforts to educate the public about the dangers of indoor tanning
• Gregory J. Mishkel, M.D., St. John's Hospital, for his treatment for patients with critical aortic stenosis
• Ayman Omar, M.D., Ph.D., SIU School of Medicine, for his novel approaches to treat brain and spinal cord tumors
• Steven D. O'Marro, M.D., Springfield Clinic, for his clinical trials of Hepatitis C
• Khaled J. Saleh, M.D., SIU School of Medicine, for his clinical trial of pain coping interventions to improve outcomes following knee arthroplasty
• Christina M. Vassileva, M.D., SIU School of Medicine, for her studies of ischemic mitral valve surgery
• Andrew C. Wilber, Ph.D., SIU School of Medicine, for his research into gene therapy for severe hemoglobin disorders

"Cutting-edge medical research and technology development are key determinants of the potential for economic benefits to accrue to the central Illinois community and to enable the Medical District to fulfill its mission," said Michael Boer, president of the Mid-Illinois Medical District.

"There is a tendency to look for excellence from the ivory towers or big cities, and discount what is being accomplished in our own backyard," said Gayle E. Woodson, M.D., chair of the Medical Innovators peer-review panel. "This event was to raise awareness of the amazing advances being generated in our own medical community."

The Medical Innovators program first began in 2006 as "Medical Miracles" and again in 2009 as "Medical Innovators." Additional information on the program can be found here on the website at Medical Innovators.


---
A Special Thank You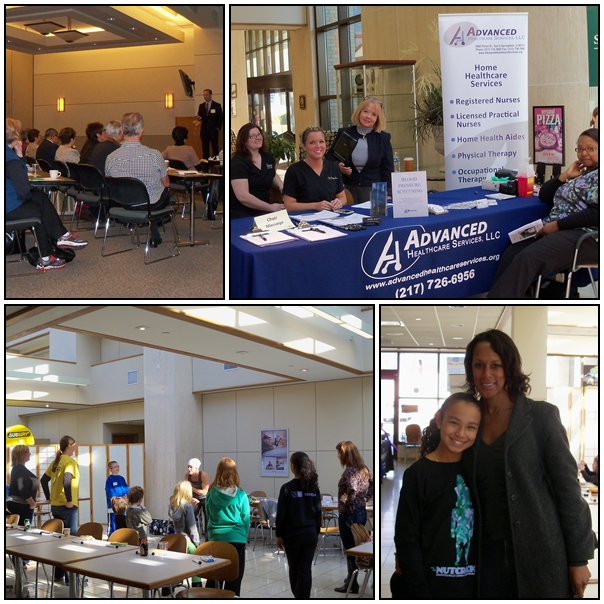 A special thank you to our Physician Wellness Conference exhibitors and presenters.

Exhibitors
• Gold Level: Physicians Benefits Trust
• Silver Level: ISMIE and St. John's Hospital
• Bronze Level: Affordable Shred, Gateway Foundation and Kerber, Eck and Braeckel

Children's Programming provided by: genHKids Coalition

Springfield Health Check provided Blood Press and Glucose screening through the support of Advanced Health Care Services, LLC, Massages through the support of Massage Club, Derma Scan/Sun Exposure through the support of Interim Healthcare of Central Illinois, and Cancer Prevention information through the support of Southern Illinois University School of Medicine - Department of Family and Community Medicine/Medical Students

Presenters
• Dr. Paul Savage, Keynote Speaker: Physicians Guide to Age Management Medicine
• Dr. Brian Moore: What is Fitness?
• Dr. Karen Broquet: Wellness and Woe - Strategies for Physicians to Optimize Physician Well-being
• Dr. Andrea Stonecipher: Mental Wellness - Keeping the Brain Fit
• Lin Vautrain: Establishing and Maintaining Healthy Lifestyle Habits
• Kathy Pearson: Relationship Wellness - Food, Money and Sexuality
• Eric Huber: Work-Life Balance - Finding Your Zone

THANK YOU FOR YOUR SUPPORT!


---
Continuous Membership Is Now Available!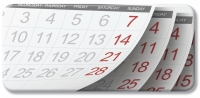 Great News! Continuous Membership is now available! Sign up or renew your membership today and never receive a renewal billing again. Your regular ISMS and Sangamon County Medical Society membership dues of $71.25 will be billed to your bank account or your credit card in monthly payments, whichever is most convenient to you. Your ISMS membership will roll from one month to the next without any need to renew your membership or risk a lapse in membership benefits.

Of course there are always two options for payment:
• Option 1 - Pay one lump-sum payment and your membership is completely paid for the entire 2011 calendar year.
• Option 2 - Elect Continuous Membership and your renewal begins with a debit payment on January 10, 2011. New members will begin with a debit on the 10th day in their first month.

Participants in the Group Membership Program are also eligible to take advantage of Continuous Membership. Group program participants can make payments on an annual, monthly or quarterly basis.

Let us know if you would prefer we debit the payment from your bank account or credit card each month. And that's it! There are no fees to participate.

If you have any questions or would like help signing up, call 1-800-782-4767, ext. 1900, or e-mail membership@isms.org.


---

Get On The SCMS
Or SCMS Alliance Group Email Lists!

If you have an email address, and would like to receive updates and action alerts from either the Sangamon County Medical Society or our Alliance, please let us know. More and more of our communications in the near future will be sent electronically. You can get newsletters faster and eliminate paper clutter on your desk. Don't worry, we won't inundate your inbox!

Your email address is safe with us. We do not share, sell or distribute email addresses to anyone. SCMS also sends periodic news by email to office managers of our members.

Send us your information to join either of our group email lists. Include your full name, which organization's email list you are joining, your email address, mailing address, phone number, office manager, and manager's email. Note: SCMS will promptly forward Alliance information to them upon receipt.


---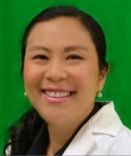 Dareen D. Siri, M.D.
SCMS President